This blog has been inspired by one of my most popular blogs >> 10 creative ways to use your business card for marketing.
Our business cards are one of the smallest pieces of our marketing collateral but they work so hard for us and can work even harder.
I still see so many business cards that are blank on the back when they could be used to promote your business just that little bit more.
I've put together another 10 ideas of what you could put on the back of your business card to help you build your brand, tell your business story and help you stand out from the crowd.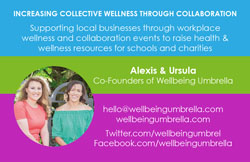 Picture of yourself
Although it can be scary thought for some of us, a picture of yourself on the back of your card can be useful. It personalises your brand and ultimately people buy from people. It can build trust and familiarity which can be good for businesses such as coaches.
You become more recognised in your field as people see your picture and associate it with your business.
If you do go down this route, use a professional photographer that will put you at ease and take genuine natural shots of you. Stay away from cheesy!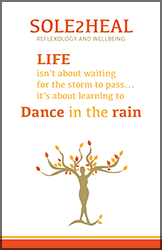 Favourite or inspiring quote
Quotes are a favourite, social media is full of them.
Use a favourite or inspiring one on the back of your business card. Rather than picking a random quote, make sure it links back to you and your business in some personal way.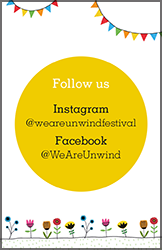 Social media
Some of us are very busy on social media and pretty much run our business on there.
There's nothing wrong with just promoting social media on the back of your business card.
It's especially useful if you want to promote blog writing or if you run events and want people to stay in touch for regular updates.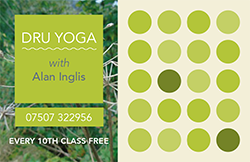 Loyalty schemes
Loyalty schemes are popular especially in wellbeing and beauty businesses. A loyalty card can double as both a business card and loyalty scheme so it's a great way to get people to keep hold of your details.
If you don't operate a loyalty scheme, see how you could try incorporate one into your business. I have a wallet full of cards and use them for exercise classes, cafes and children's clothes and shoes. A good loyalty scheme does tempt people to buy from you.
Statistics
Does your business have some interesting statistics? Are there some interesting statistics in your industry? It's some thing that always gets people talking.
Yoga instructor – how many people suffer from back problems
Massage therapist – how many people suffer from insomnia
Healthy foodie – how many people suffer from allergies
Is there a statistic you can use to promote your business?
Your business story
How did you start your business? What is your journey?
Granted, there isn't much room on the back of your business card for your full CV but a couple of sentences of an interesting story is bound to catch attention. Again, you're personalising your brand and potential customers are getting to know you.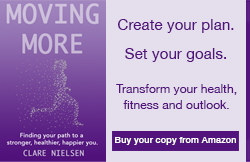 Promote a book, freebie or download
Have you written a book? Got a freebie to tempt people onto your mailing list? Or are you selling an e-book or course?
Pop the information onto the back of your business card along with information on how to get hold of it.
Charity work
I'm noticing a few people now work with charities and donate a percentage or amount of their earnings to them. If you're one of these wonderful people, promote it!
Faced with a choice, I would always pick a business with such a great ethos and promote it to my friends.
FAQ
Is there something you get asked over and over again? Something your customers or potential customers always want to know? Pop it on the back of your business card.
Obviously not if it's a long essay but it might be something that's stopping people from booking or shopping with you.
Prices
Do you have packages or treatments or sessions? Do you think people might be put off asking the price? Do they think they can't afford you? Perhaps putting your prices on the back of your business card might tempt people to get in touch.
Business cards are very cost effective these days. You don't need to buy thousands in order to get a good deal so putting your prices on the back shouldn't worry you in case you have loads left and you've had to put your prices up for some reason.
And finally
I hope these ideas have inspired you as much as they did in my first blog.
Don't leave the back of your business card blank, use it to build your business and your brand. Use it to promote your business and what you do. Make it stand out and get that little edge on your competitors.
Are you going to try any of these ideas? I'd love to hear in the comments.
Liz x
PS. If you'd like to work with me on a new business card or another design project, do get in touch!